I saw this tag on ashleighbekkah.wordpress.com and wanted to do it, so I am! 🙂
This is the TBR (To Be Read) Tag and is all about the books that are on my to-read pile! I will stick to the books I actually already own rather than the mythical Goodreads to-read list.
If you fancy doing this tag as well, please do and link your list!
Let's get started!
How do you keep track of your TBR pile?
I don't. Well, I do, kind of, in my head. I know which books on my shelves I have read and which I haven't, but I don't really have an actual way of keeping track. I keep considering using an actual shelf for books I have not read yet, but I never do!
Is your TBR mostly print or e-book?
Pretty much all of it print, though I have a couple of audio books I want to listen to. I am considering getting an e-reader though. Maybe for Christmas?
How do you determine which book from your TBR to read next?
I pick whatever I feel like, though at the moment I am trying to get through the TBR books that have been sitting on my shelves the longest. If I don't feel like any of those, I will pick another.
A book that has been on your TBR shelf the longest.
Both books that I am reading at the moment had been sitting on my shelves for almost twenty (!!!) years. They are Talking To The Dead by Helen Dunmore and Waterloo Story by Peter Prince.
A book that you have recently added to your TBR.
The last books I added were the last ones I bought, which were Chocolat by Joanne Harris, Around The World in Eighty Days by Jules Verne and Rivers of London by Ben Aaronovitch. All three bought in the same Oxfam charity shop.
A book that is on your TBR strictly because it has a beautiful cover.
Well, I picked up The Nest by Cynthia D'Aprix Sweeney at the airport a couple of months ago simply because the cover caught my eye. Hopefully I will read it some time this year.
A book on your TBR that you never plan on actually reading.
What? No! I will read all the books… eventually. No point having books you're not planning on reading!
An unpublished book on you TBR that you are excited for.
Well, since I have limited my TBR for this exercise to the book I already own… But a book that's on my to-read list on Goodreads that is not out yet is Wicked Like A Wildfire by Lara Popovic. I love the premise and the cover is just gorgeous!
It's out next week!
A book on your TBR that basically everyone has read but you.
Daughter of Smoke and Bone by Laini Taylor.
A book on your TBR that everyone recommends to you.
My husband is forever saying Brave New World by Aldous Huxley is really good and he is not much of a reader, so it must be! A few female friends have recommended Sophie Kinsella books. It is not really my thing, but I actually picked up Can You Keep A Secret? from a charity shop recently, which I am planning to read this month, preferably outside lounging in the sun!
A book on you TBR that you are dying to read.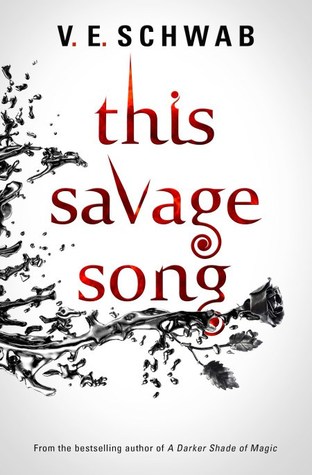 This Savage Song by V. E. Schwab. I have heard so many good things about Schwab's books that I am looking forward to reading this one.
The number of books on your Goodreads TBR.
Including all the books I don't own (!!!), there are 231 at this moment, but the number is ever increasing! I try not to go too crazy though…